I just realized it's Hip To Piece Square's birthday today! I've somehow made it a year talking about not much more than just quilts and quilting. Are you guys still really still interested in reading about this stuff?? Anyway, here's to another year of quilt talk! I can't tell you how much fun it's been for me to keep this up–I've loved getting to know quilters and crafters from all across the country. You all make writing this blog a lot of fun. Thanks to everyone who's read for the past year, and I look forward to talking to all of you who haven't posted yet–I love hearing what people think of what I'm doing and what people are doing in their own art.
A quick post otherwise: this past week I took a little break from quilting one day to make my friend, Kate, a little gift. I used wool felt (which I think is just the most fun stuff ever) and put together a little pouch.
It seems like everyone is making these pouches lately, and I thought I try one for myself. I have to say, that little zipper is kinda tricky! I hand stiched it in, and it seemed alright to do. Hopefully it won't fall apart on her once she gets it though.
And if you aren't on the receiving end of a wedding quilt by me, click on to see the quilting in progress!

I started quilting this week, and although I've been happy with the quilting pattern, I'm not so happy about the quality of my stitches. They're not even, they're not always straight, and I just don't think that I'm doing that well on them. But okay for me, they look okay in this picture: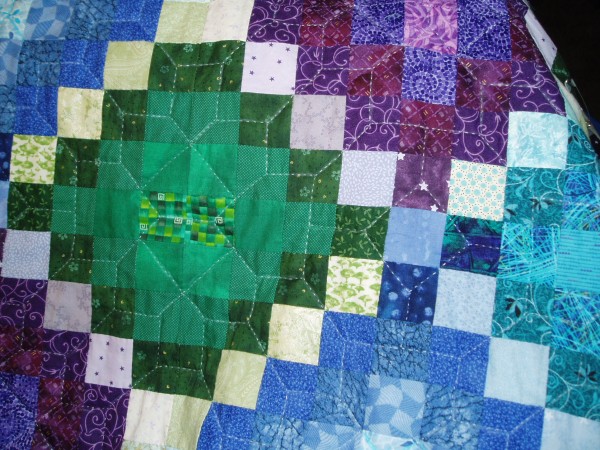 Maybe I'm just being too picky. Good news though, I'm right on schedule with its progress. I'm hoping to have it finished by the start of June, because I'd like to enter it in the fair (begin strumming your banjos and roll up your coveralls!) at the end of July. Mmm… I'm sure our friends will love getting a quilt that smells like pigs, carnies, and elephant ears all at once!